Latest News from Steve Quiller
Details

Created: 17 October 2017

17 October 2017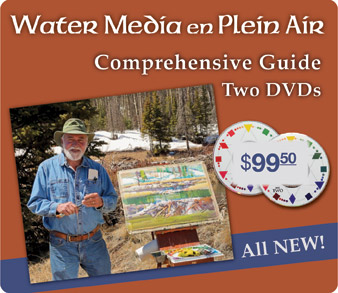 Announcing an All New Comprehensive Video Guide!
2 DVD Set - 8 Chapters of Finished Paintings
Different Subjects & Atmospheric Conditions - Materials & Setup Chapter - + Bonus Material
Details

Created: 27 September 2016

27 September 2016
Read Stephen's interview by Paul Sullivan from September 20, 2016 - The Sixth in an Artist Daily Exclusive Series: Masters of American Watercolor
Questions include
What can you tell us in general about yourself as an artist and your way of working.
Who were the watercolor artists who influenced you the most?
You have said artists are at their best when they paint what they know. You are a painter of nature. Can you tell us how this applies to your work?
What attracts you most when searching for potential subject matter?
Your paintings are noted for strong design and color. Do you make small preliminary composition and color roughs?
What is the best advise you can offer an aspiring watercolor artist?

Details

Created: 31 August 2016

31 August 2016
"GOING DEEPER INTO NATURE" - Exhibition of Recent Stephen Quiller Paintings
SEPTEMBER 17, 2016: 2:00–6:00 PM - QUILLER DEMONSTRATION AT 4:00 PM
MISSION GALLERY: 138 Kit Carson Road, Taos, New Mexico 87571 - (575)758-2861 This email address is being protected from spambots. You need JavaScript enabled to view it.
Stephen Quiller has exhibited at the Mission Gallery since 1984