Latest News from Steve Quiller
Details

Created: 18 August 2020

18 August 2020
The Quiller Gallery invites everyone to attend and help celebrate the
Quiller Gallery 50th year Golden Anniversary,
Monday, August 31st from 10 AM to 5 PM.
Masks will be available with social distancing, limited to small groups at a time. From 11 AM to 3 PM Stephen will give 20 minute tours of his 50 year Retrospective Exhibition that is on display at the Creede Hotel. (please sign up at the gallery) This show features 20 paintings from 1970- 2019. Pamphlets are available for each viewer to enhance the guided tour. Arp's Creede Hotel is hosting this 50 year retrospective. The first painting, New Holy Moses Mine, was painted in 1970. The last painting in the exhibit, Winter Crows at the Vesper Hour, was painted in 2019.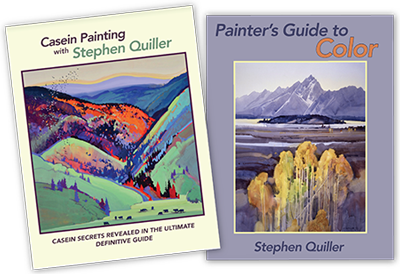 From 3 to 5 PM, there will be book signings of Mr. Quiller's two new books. "Casein Painting With Stephen Quiller" is the first definitive in-depth guide to this beautiful milk-based painting medium. Steve has been working with this medium for 50 years and the book will feature a retrospective of his early to late work. The last chapter will feature a gallery of his paintings along with excerpts from his journals. This book will be available in softbound as well as a deluxe hardbound edition. "Painter's Guide to Color" is the premier guide to understanding color for the painter. After being out of print for 10 years, Echo Point Books and Media are bringing it back into print with updated cover and Color wheel. This is an essential book for every artist.
Along with the new paintings on display at the gallery will be two commemorative prints, made just for this year's celebration. "Celebrate Life" is a four-color etching limited edition that was created to put out beautiful and positive energy during this unprecedented time. "Interconnectedness, Autumn Aspen Walk" giclée print featuring the artist, with backpack and artist supplies in hand, walking through an aspen forest. Featured artists also at the gallery include Pat Jahla (ceramics), Allison Quiller & John Stynchula- Glass Collage, Jocelyn Russell- wildlife sculpture, Sharon McCoy- figurative ceramic sculpture, Sam Saunders- hidden beauty of wooden bowls
Stephen Quiller and his wife Charlene opened the present gallery in June 1970. At the time Creede was an active mining town with the Emperious and Homestake Mines running three shifts night and day. However, the downtown Main Street of Creede was mainly boarded up and empty. The Creede Repertory Theatre had just opened in 1966 with twelve University of Kansas college students. Above the gallery was the boardinghouse for the theatre company. The mines were booming and the town was a wild and exciting place to be. The Raft Races happened annually the second week of June.
The 4th of July mining events took place on Main Street. They also had a whiskey drinking contest and open gambling! However, in 1985 the mines closed and the town went into a deep recession. Property could be purchased for next to nothing.
Today, Stephen and his wife Marta continue to own and run the Quiller Gallery. in the past 50 years he has developed an international reputation for his water media paintings. He has written seven best-selling books on the subjects of color and water media. He has received many awards and recognition, including the Gold and Silver Medals of Honor at the American Watercolor Society's International Exhibitions in 2014 and 2018. He has conducted workshops throughout the United States and internationally including Ireland, Scotland, England, France, Belgium, Italy, Canada and Costa Rica.