Latest News from Steve Quiller
Details

Created: 11 May 2020

11 May 2020
Join us on August 31st to celebrate 50 years of Quiller paintings! As part of our 50th year celebration we have two special offerings: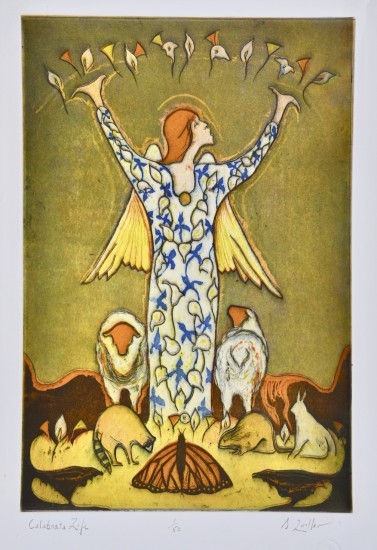 Celebrate Life
A four-color etching priced at $590 unframed and $725 framed. It is hand-pulled by the artist, in an edition of 50. Size: 18" x 12"
"Let the BEAUTY We Love Be What We Do."
~Rumi, 13th century poet and mystic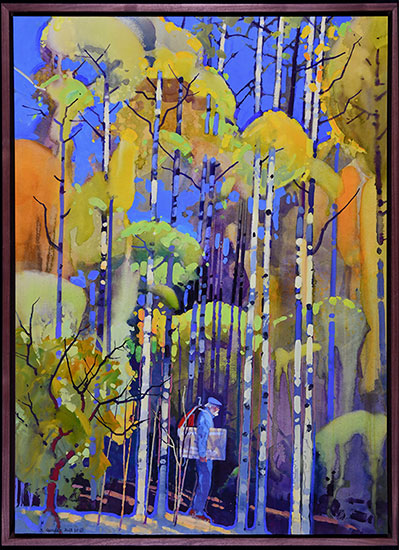 Interconnectedness, Autumn Aspen Walk
24" x 18" • An edition of 75

This is a limited edition print of a painting by Stephen Quiller, a self portrait of the artist walking through the autumn aspen; the deep ultramarine blue is a cloisonné linear element that creates an interconnectedness.
 This was produced from a high end scan of the original painting on a Metis Scanner. The high definition giclee was printed with a "SwissQ Nayla" - the best in the industry - with ultraviolet technology, on a metal surface. It is rated for 50 years of lightfastness indoors. The print is floated within a 100% American Walnut frame, and ready to hang.

 Price: $490.00
To Purchase: Contact the Quiller Gallery at 1-800-876-5760 or This email address is being protected from spambots. You need JavaScript enabled to view it.
---
Greetings, friends, painters, collectors and patrons:
This summer marks the 50th anniversary of the Quiller Gallery in Creede, Colorado. It seems like yesterday that I discovered this incredible place. Then, the mines were running 24 hours a day, and there was virtually no tourism. The town has changed enormously in these 50 years, and I have, too. As an early Creede friend used to say, "A lot of water has flowed under this bridge, and it ain't all been clear neither!" But looking back, what a gift I have been given – to be able to live a life immersed in art, to live in these incredible mountains and to have tremendous support from my family, friends and community. It's a way of life that I love, but it is very unpredictable.
Now, with this pandemic, we are facing a humbling and deadly foe. With so many lives and jobs lost, it is a very uncertain time, one where we need to band together, step up and help our brothers and sisters.
On this brochure's cover is a painting called "Interconnectedness, Autumn Aspen Walk" that I did last fall. I love painting outside when the color is changing. There is a sense of timelessness. But, this period of time is short, and with a few wind gusts, the aspens are bare. We are having this painting made into a limited-edition dye sublimation archival print (26" X 18") that will be framed with a cradled maplewood, ready to hang without a frame. It will be on display at the gallery. Please come to the gallery to enjoy it or see it online at quillergallery.com
On the back of this brochure, you will find a four-color, four-plate etching that I just finished, titled "Celebrate Life." It is 18" x 12", hand pulled and signed by me, an edition of 50, with the chop mark "Q" stamped in the corner. I felt that in this strangely dark time, it would be great to put positive energy into the world. I truly believe that the love that you put into a work of art has a living energy. Above and below this letter are two recent paintings I am also very excited about.
I have been blessed with a great year of production. My book "Painter's Guide to Color," which went out of print a few years back, is now being reprinted by Echo Point Books and Media of Brattleboro, Vermont. I've always felt this was a very important book, and this makes me so pleased! I am also finishing a book titled "Casein Painting With Stephen Quiller." I've long wanted to write a book on casein, as there are no recent texts on the subject. I've been working with casein for close to 50 years, and because my daughter, Allison, has been archiving almost all of my paintings since 1970, I can now access the retrospective of casein paintings. There are examples of my paintings in this book from the early '70s to the present. Working with casein for 50 years has given me a lifetime of knowledge and experience to share. To complement this book, the Jack Richeson Company produced five new casein colors to go along with the Quiller color palette. These two books will be out late summer and mid-autumn. Check my website for updates.
In this strange, devastating and uncertain time, I have discovered a different rhythm. This late winter I had so many projects and deadlines that I had to create a timeline to keep on schedule. Then, the virus hit. Time has slowed down. I have done a lot of painting, as you will see on our website. I've also cross-country skied most evenings. Marta and I are taking walks in remote areas. It's given me time to rethink my priorities. It has given me time to be still. Spring is coming, the snow is melting, and the river is filling. The cycle begins again.
Go well with love, Steve