About Stephen Quiller
Biography
Stephen Quiller is an internationally known painter who works primarily in water media, monotypes, and intaglio printmaking. He is best known for his innovative approach to water media painting: watercolor, gouache, acrylic, casein and their combinations, and for his use of color. He has written six books, all published by Watson-Guptill:
Water Media Painting with Stephen Quiller
Water Media Techniques
Water Media: Processes and Possibilities
Color Choices
Acrylic Painting Techniques
Painter's Guide to Color
His research and development of a color wheel for painters - called the "Quiller Wheel" - is now used by thousands of painters throughout the world. In addition, he has developed twelve instructional dvds produced by Crystal Productions, as well as two dvds produced by the Richeson Company in 2004.
Stephen Quiller has painted in many parts of the world, but is primarily known for his work done at or near his home in the high mountainous country of southern Colorado.  These subjects include beaver ponds, snow shadows, water patterns, wild iris, and mountain rhythms, capturing the spirit of the San Juans.  Through his painting, he has become a Signature member of the American Watercolor Society, National Watercolor Society, Rocky Mountain National Water Media, and Society for Painters in Acrylic and Casein, among others. His work has been selected for the Gold Medal of Honor in 2014 and the Silver Medal of Honor in 2018 at the American Watercolor Society International Exhibition held at the Salmagundi Club in New York City.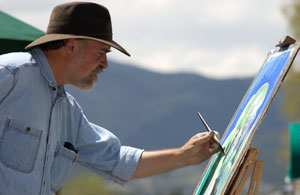 Stephen's paintings have been on the covers and the subject of articles in many leading art magazines. He has also been an invited juror for a number of regional and national art exhibitions. Most recently 18 of his paintings hang at the governor's offices at the capitol and will until Governor Hickenlooper leaves office.
A popular workshop instructor, he teaches his approach to color, water media, composition, and on-location painting, throughout North America and internationally.
Stephen shows in the Mission Gallery of Taos, New Mexico, and during the summer months he and his wife, Marta, operate their Quiller Gallery in Creede, Colorado.
---
Awards
SILVER MEDAL OF HONOR
151st International Exhibition . American Watercolor Society
GOLD MEDAL OF HONOR
148th International Exhibition . American Watercolor Society
RALPH SMITH MEMORIAL AWARD
145th International Exhibition . American Watercolor Society
NICHOLAS REALE MEMORIAL AWARD
142nd International Exhibition • American Watercolor Society
DIDI DEGLIN AWARD
American Watercolor Society
HAL P. MOORE AWARD
American Watercolor Society
LOUIS KAEP AWARD
138th International Exhibition • American Watercolor Society
WINSOR AND NEWTON AWARD
133rd International Exhibition  •  American Watercolor Society
WALTER GREATHOUSE MEDAL
131st International Exhibition . American Watercolor Society
NATIONAL SOCIETY FOR PAINTERS IN ACRYLIC AWARD for NSPCA
PHILADELPHIA WATERCOLOR SOCIETY AWARD
at The National Watercolor Society
WALTER GREATHOUSE MEDAL AND CASH AWARD
130th American Watercolor Society Exhibition
JOHN WENGER MEMORIAL AWARD
National Society of Painters in Casein and Acrylic, New York
GOVERNOR'S AWARD
Colorado Arts Council, Denver, CO
MERIT AWARD
Rocky Mountain National Water Media, Denver, CO
TWO MERITORIOUS AWARDS and ONE PURCHASE AWARD
Colorado Council of Fine Arts Exhibition, Pueblo, CO
AMERICAN WATERCOLOR SOCIETY TRAVELING EXHIBITION, NEW YORK
WHO'S WHO IN AMERICAN ART and WHO'S WHO IN COLORADO
HONOR AWARD
Oregon Watercolor Society
---
Selected Exhibitions
International Watermedia Masters • Nansing, China
20 American Realists, Hayden Hays Gallery, Broadmoor • Colorado Springs, CO
Fry Art Museum • Seattle, WA
Sacramento Fine Art Center • Sacramento, CA
Colorado Springs Fine Art Center • Colorado Springs, CO
Rocky Mountain National Watermedia
National Society for Painters in Casein and Acrylic
American and Italian Printmaker Traveling Exhibit
Riverside Art Museum • Riverside, CA
Wichita Art Museum
Denver Art Museum
Portland Art Museum
National Academy of Design, NY
National Arts Club, NY
National Watercolor Society
Watercolor USA
Allied Artists of America
AWS Salmugundi Club, NYC
Forbes Museum
---
One Man Shows
| | | |
| --- | --- | --- |
| Berman Museum of Art | | Collegeville, PA |
| Luther Bean Art Museum |   | Alamosa, CO |
| Berger Sandzen Museum |   | Lindsburg, KS |
| Foothills Art Center |   | Golden, CO |
| Lincoln Center |   | Fort Collins, CO |
| Montalvo Center for the Arts |   | Saratoga, CA |
| Klamath Art Association |   | Klamath Falls, OR |
| Rogue Valley Art Association |   | Medford, OR |
| Brass Cheque Gallery |   | Denver, CO |
| United Bank of Denver |   | Denver, CO |
| Umpqua Art Center |   | Roseburg, OR |
| Hatfield Gallery |   | Alamosa, CO (ASC) |
| Mission Gallery |   | Taos, NM |
---
Publications
WATSON-GUPTILL PUBLICATIONS:
Water Media Painting with Stephen Quiller, 2008
Painter's Guide to Color, 2000
Acrylic Painting Techniques, 1994
Color Choices, 1989
Everything You Ever Wanted to Know About Watercolor, 1992
Co-Author: Water Media Techniques, 1982
and Water Media: Processes & Possibilities, 1986
Painting from the Pros, 1984
SELECTED ART MAGAZINES:
The Artist
American Artist
The Artist's Magazine
Artist's Sketchbook
International Artist
Kunst for Alle
Southwest Art
Watercolor Magazine
Watercolor Magic
Creede Magazine
American Artist Workshop
---
Professional
American Watercolor Society
National Watercolor Society
National Society for Painters in Casein and Acrylic
Rocky Mountain National Watermedia
Watercolor West