Latest News from Steve Quiller
Details

Created: 27 September 2016

27 September 2016
Read Stephen's interview by Paul Sullivan from September 20, 2016 - The Sixth in an Artist Daily Exclusive Series: Masters of American Watercolor
Questions include
What can you tell us in general about yourself as an artist and your way of working.
Who were the watercolor artists who influenced you the most?
You have said artists are at their best when they paint what they know. You are a painter of nature. Can you tell us how this applies to your work?
What attracts you most when searching for potential subject matter?
Your paintings are noted for strong design and color. Do you make small preliminary composition and color roughs?
What is the best advise you can offer an aspiring watercolor artist?

Details

Created: 31 August 2016

31 August 2016
"GOING DEEPER INTO NATURE" - Exhibition of Recent Stephen Quiller Paintings
SEPTEMBER 17, 2016: 2:00–6:00 PM - QUILLER DEMONSTRATION AT 4:00 PM
MISSION GALLERY: 138 Kit Carson Road, Taos, New Mexico 87571 - (575)758-2861 This email address is being protected from spambots. You need JavaScript enabled to view it.
Stephen Quiller has exhibited at the Mission Gallery since 1984
Details

Created: 02 May 2016

02 May 2016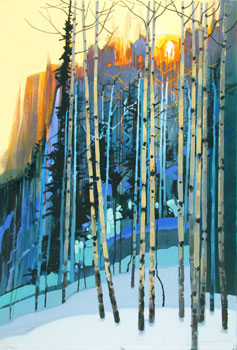 In honor of the Burchfield-Penny's 50th Anniversary Stephen Quiller has been invited to lecture, demonstrate and exhibit his work in Buffalo, N. Y.
Charles Burchfield (1893- 1967) was an American Watercolor Master who lived the majority of his adult life in Buffalo, N.Y. His paintings evoke an energy, sounds, wind and light that go beyond most representational painting. Art collector Rand Penny helped fund the Burchfield Center that was housed on the second floor of an old brick building on the Buffalo State College campus. Today the museum is a beautiful multi-million dollar facility that is devoted to Charles Burchfield's and other regional art. Charles Burchfield is one of Mr. Quiller's painting heros and is honored to participate in the years events.

Learn more about Quiller's exhibition
at the Burchfield Panny Art Center
50th Anniversary Celebration of the Burchfield Penny Art Center 1966- 2016
Burchfield Penney Art Center, Buffalo, N.Y.
Stephen Quiller Exhibition, Lecture and Demonstration
June 7 - July 10, 2016
Exhibition at the Burchfield Collection Study Center: Five American Watercolor Society Award Winning Paintings including the 2014 Gold Medal of Honor
Thursday, June 23, 2016
Mentors & Masters: Stephen Quiller's Muse- lecture in the evening at the BPAC auditorium from 7- 8:30 p.m. with Q and A . Followed by a book signing
Saturday, June 25, 2016
Interpret and Express: High Country Landscape With Stephen Quiller morning at the BPAC auditorium from 10:30 a.m. to 12:30 p.m.
Painting demonstration followed by by a reception outside the Collection Study where Stephen's paintings will be shown
---